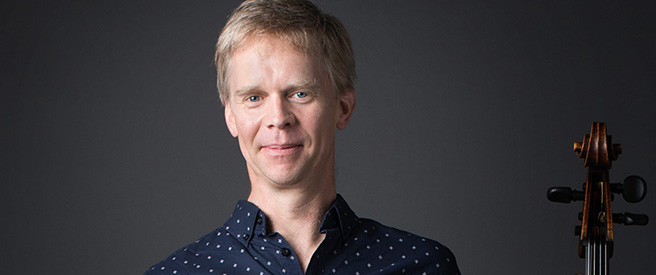 Cellist Brad Ritchie joined the Atlanta Symphony Orchestra in 1997. Originally from Portland, Oregon, he earned his Bachelor of Music at Indiana University where he studied with Tsuyoshi Tsutsumi and Janos Starker. In his senior year, his string quartet won the school's Kuttner Quartet Competition, which provided them with a year of recitals and trips to a number of chamber music competitions from Osaka, Japan, to Evian, France. Following a summer of quartet concerts in Europe, Ritchie enrolled in the Musikhochschule in Freiburg, Germany, and earned his graduate degree studying with Adriana Contino.
After completing his studies in Germany, Ritchie played for two years in the New World Symphony in Miami under Michael Tilson Thomas. In 1997, he became a member of the Atlanta Symphony Orchestra, and also joined the Atlanta Chamber Players. During his tenure with the Atlanta Chamber Players, he has made recordings on the CRI, ACA Digital, and MSR labels, and toured extensively, including performances at Carnegie Hall, Boston's Jordan Hall, the American Cathedral in Paris, France, and at the International Chamber Music Festival in San Miguel de Allende, Mexico.
In addition to his Orchestra commitments, Ritchie has played with many other chamber music and new music ensembles in and around Atlanta including Riverside Chamber Players, Thamyris Ensemble, Emory Chamber Players, Franklin Pond Quartet, GLO-ATL, and Bent Frequency, as well as annual concerts with faculty at Kennesaw State University and recitals with Robert Henry in Highlands, NC. He is a founding member of the contemporary music ensemble Sonic Generator, currently in its 10th season in residence at Georgia Tech University.
In his spare time, Ritchie enjoys traveling to distant lands, running through the woods and finding new places to eat.