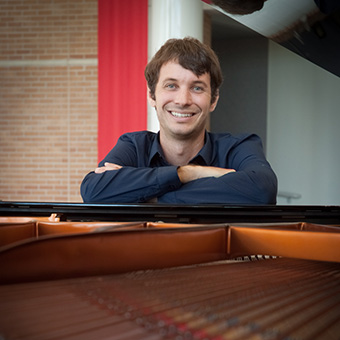 Benjamin Krause's work has been recognized through commissions, awards, and residencies by the Copland House, Houston Symphony, Atlanta Chamber Players, Indianapolis Chamber Orchestra, Network for New Music, Oregon Community Foundation, Presser Foundation, the Music Teachers National Association, the National Association of Teachers of Singing, ASCAP, Da Camera of Houston, and The American Conservatory in Fontainebleau, France. His piece Pathways for chamber orchestra was named the winner of the Houston Symphony's inaugural Young Composer Competition and was described as "attractive…the composer craftily reconstituted orders of events to create a compelling dramatic arc. Krause's excellent control of dissipating energy for the serene ending of the work was most impressive" (concertonet.com). He was recently commissioned by the Delgani String Quartet, with support from an Oregon Community Foundation Creative Heights grant, to compose his 30-minute String Quartet No. 1 "Cascades", a four-movement work inspired by the landscape atop the McKenzie Pass in the Oregon Cascade Range. Delgani has recently released a recording of the work on their album Distant Monuments. An artist with diverse interests, Krause has collaborated with photographers, dancers, architects, and filmmakers in his creative work. He was a Young Artist of Da Camera (2011—2012) and was the recipient of the 2012 Presser Award, enabling a summer of study in Europe at the American Conservatory of Fontainebleau, where his work was awarded the Prix Marion Tournon Branly. In the 2018-19 season he was in residency at the Brush Creek Foundation for the Arts (WY) and, as a recipient of the Copland House Residency Award, at Aaron Copland's historic home in Cortlandt Manor, NY. He was named the 2018 Distinguished Composer of the Year by the Music Teachers National Association for his work Taxonomies of Pulse, and received an Honorable Mention in the 2019 NATS Art Song Composition Competition for his cycle Six Lowell Songs for soprano and piano.
Krause's music is characterized by its visceral rhythmic drive, tight motivic control, and colorful, dense harmonies reminiscent of jazz. His music engages the traditions of orchestral and chamber music by drawing from many historical traditions and aesthetics,  both improvisational and carefully controlled, often creating new sound worlds through the absorption and synthesis of varied musical idioms. His Night Tides (2011) for flute and piano "simultaneously established and explored a detailed, individual musical landscape. Mr. Krause performed the work fantastically, engendering his expressive and densely atonal textures with clear structures and a palpable rhetorical/narrative arc" (Sequenza 21). Other works, such as Uv'Chein Variations (2012) for violin and piano, and Suite for Bari Sax and Piano (2016) explore connections between classical forms (theme and variations, Baroque dance suites) with folk and popular sources. Just as often, as in Beach Scenes (2013) and his first string quartet (2017), his music evokes a sense of the mystical, depicting expansive landscapes and environments through lush textures and an impressionistic sense of sonority and color. More recently, his music has increasingly focused on issues of rhythm, resulting in such works as Taxonomies of Pulse and the forthcoming Cycles & Interludes for flute and bass.
Current projects include a large cycle for solo piano, Not a Thing but a Movement, commissioned by pianist Peter Gach; a chamber work commissioned by the Atlanta Chamber Players ("Notes from Inside"); and a new work for choir, oboe, and strings commissioned by Lutheran Summer Music to commemorate its 40th anniversary.
As a pianist, Krause is active in contemporary music, jazz, and the traditional classical repertoire, with performances at Carnegie Hall, Zilkha Hall (Houston), the Houston Museum of Fine Arts, the Menil Collection, and in collaboration with such artists as Molly Barth (Eighth Blackbird), Jeffrey Zeigler (the Kronos Quartet), Timothy McAllister (PRISM Saxophone Quartet), and Ronald Feldman (the Boston Symphony). In both solo performances and collaborations with many ensembles, he has premiered and performed over fifty new works in a wide variety of venues, in addition to performing the works of major 20th and 21st century composers such as George Crumb, Louis Andriessen, John Cage, and Pierre Jalbert. As a jazz pianist, he has appeared as a soloist and in performances with saxophonists Woody Witt and Horace Alexander Young, the VU Faculty Jazz Trio, and the Paul Ingram Jazz Quintet (San Diego, CA).
Krause holds composition degrees from Rice University (D.M.A.) and the University of Oregon (M.M.). As an educator, he has designed and taught university courses in composition, orchestration, music theory, aural skills, and jazz, and, while Visiting Assistant Professor of Music at Valparaiso University (2015 – 2018), he founded and directed VUNUMU (Valparaiso University New Music Ensemble), coaching and leading performances of the work of leading contemporary composers as well as of that of student composers. He currently serves as Assistant Professor of Music at Hope College in Holland, Michigan, where he teaches composition, theory, and piano.
His primary teachers include Pierre Jalbert, Anthony Brandt, Richard Lavenda, Robert Kyr, and David Crumb, with additional summer studies under Kevin Puts, Allain Gaussin, Francois Paris, and Robert Aldridge. He studied piano with Brian Connelly, Joseph Bognar, and Peter Gach.